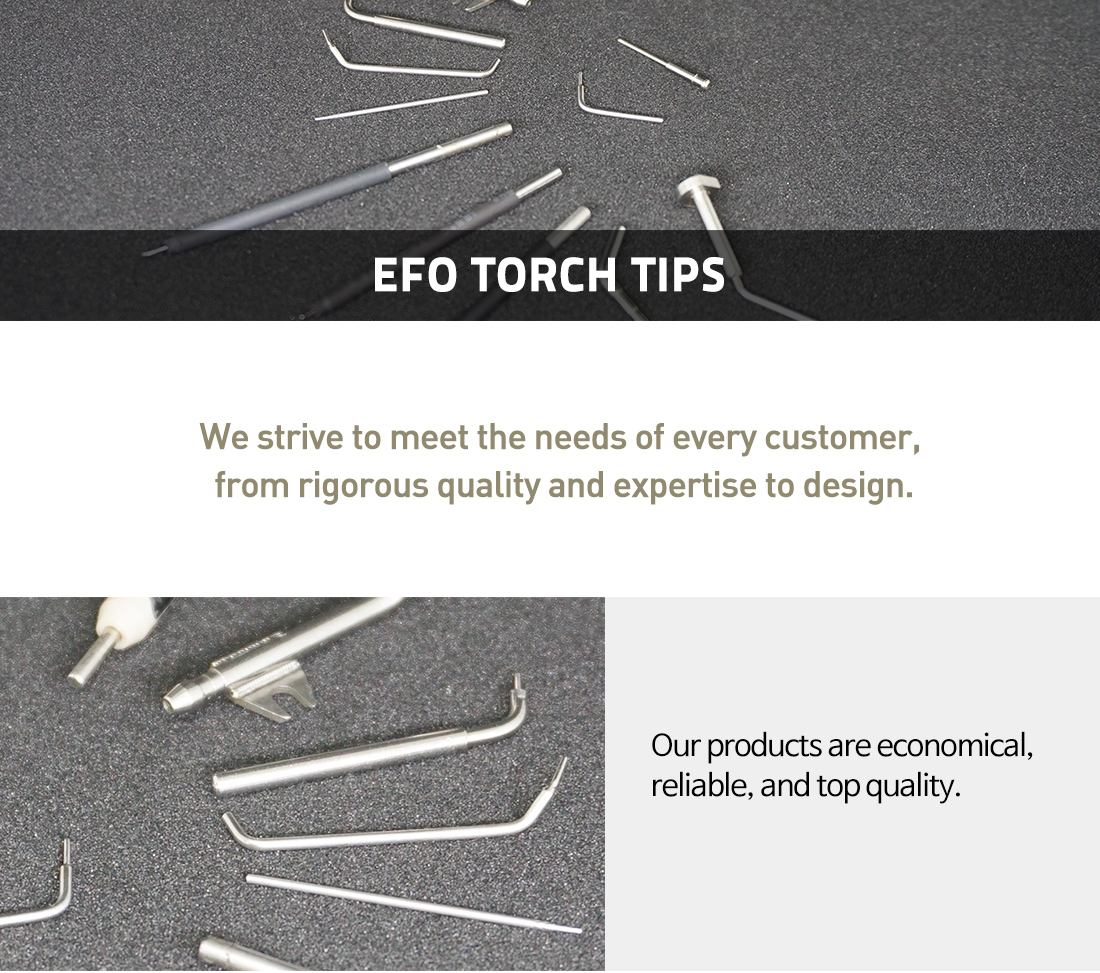 3&B System's full range of EFO are manufactured from exclusively high performing material with various customer requests, Such material of the tip also It is applicable for both gold and copper wires application.
3&B System provided the tips body with our 'family manufacturing supplying goods system' to specifically customers expectations for more reliable and high performance EFOs for both durability and Free Air Ball (FAB) consistency combining advanced material application with well refined process technology for all our EFOs.
And also doing fluent experimental research by 3&B System R&D center
​Annealing treatment and electric flame-off process

Micro-hardness analysis and tensile testing

Consistent ball size control

Ball shape uniformity

Superior performance
​
Full range applicable to K&S, ASM, Esec, Kaijo, Shinkawa and others(such as KEC, Delvotec, Toshiba) available.
ASM EFO Tips AB 0309 / AB 0339(c) / Harrier / OEM /ODM
​ K&S EFO Tips 1484 / 1488 / 8021 / 8098 / ATX / Iconn / Connx / Maxum (ultra) / OEM / ODM
​
​ Shinkawa EFO Tips UTC-1000 / UTC-2000 / UTC-3000 / OEM / ODM
​
​ KAIJO EFO Tips FB118 / FB170 / FB series / OEM / ODM
​
​ ESEC EFO Tips 3100 / 3100 (Cu + Au wire) / OEM / ODM
​
​
Stainless Steel Body

Lower cost compared to Platinum; stronger and good conductivity.

Typical spark gap between EFO and Gold-wire for sparking form a gold ball at the top of the wire very clearly.
EFO tips
​

The new EFO tip is first installed onto machine, inconsistent sparking effect may occurs, causing inconsistent free air ball formation. It will also noticed that the spark, during firing tends to sway to the left or right during the initial sparks.
​
This abnormal bonding failure produce a tilted free air ball as everyone knows and this effect will mainly due to the inability of the new EFO to lead the current to flow from the same point. To eliminate such adverse effect, 3&B System has introduced a proprietary process whereby new EFO tips are subjected to continuous sparking similar to those seen on the machine.
​

Such process will ensure that the new EFO tips can achieve its desired performance without having failure of bonding shape (sphere) and causing production delay and yield loss.